07.05.2018
Visit NBM at the NASS 2018 in Los Angeles, CA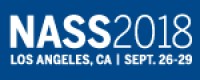 SurfLink® - with its active organic bonding, is a modern 3rd generation surface treatment for spinal implants. It has been clinically proven and in use with dental implants since over 9 years.
Learn more at the NASS 2018 in Los Angeles, CA, USA, September 26-28, 2018.
Comme and visit us at our Booth to learn more.