Clinical results
Virtually maintenance
free for a better
quality of life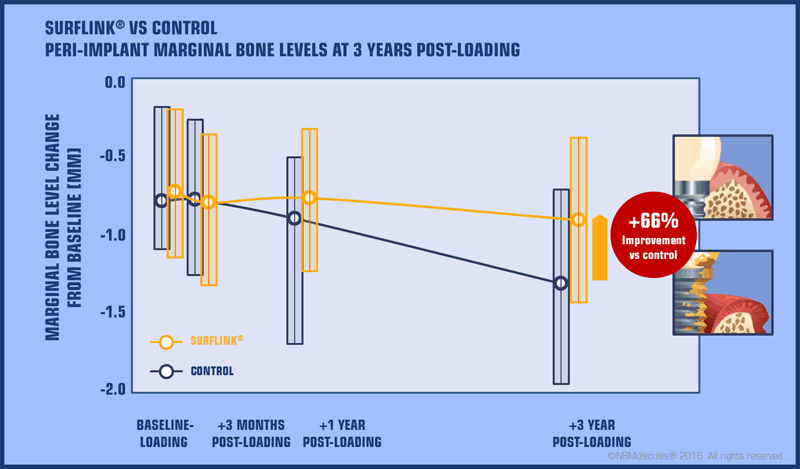 Clinical outcome
SurfLink™ may significantly improve bone regeneration and fixation resulting in clear
Clinical Benefits – When It Matters Most™
NBM conducted 2 split-mouth prospective Randomised Controlled Trials (RCT): a Pilot (23 patients in 1 clinic) and a Multi-Centre study (94 patients in 6 clinics, 3 in Switzerland and 3 in Germany). The studies were completed early 2019. A total of 117 patients received one Control implant and at least one SurfLink treated Test implant each. In total, 157 SurfLink treated implants and 117 Control implants were implanted and followed up to 5 years after loading.

Evaluation of the clinical results showed:
♦

Marginal bone levels are better maintained around SurfLink implants, the number of patients who benefitted from SurfLink increased with time, to reach 74% after 3 years and stabilising from 3 to 5 years.
♦ A 33% improved predictability of the marginal bone level (p<0.05, in Pilot study) was observed with the SurfLink implant over the Control.

♦ Improved resistance against peri-implantitis, incidence was

reduced

from 4.3% to 1.3% for Control and SurfLink

implants, respectively, over 5 years.

♦ Over 2.5mm bone recovery was observed around the affected SurfLink implant after gentle cleaning of the infection.

This clinical experience shows that SurfLink implants heal quicker with predictable osseointegration and remain stable in the medium and long term.