28.05.2016
SurfLink® at MIS Global Conference in Barcelona on 26-29 May 2016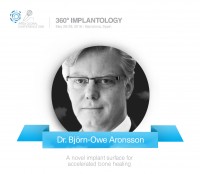 We are proud to announce that MIS will introduce their new SurfLink® treated implants at the
MIS Global Conference in Barcelona on 26-29 May 2016 (360° IMPLANTOLOGY)
. Osseointegration is taken to a new level with SurfLink® treated MIS dental implants, commercially available for the first time.
Two presentations will take place by
Dr. Bjorn-Owe Aronsson
, entitiled "A Novel Implant Surface for Accelerated Bone Healing" and by
Prof. Marco Esposito
, entitled: "Clinical Evaluation of Safety and Efficacy of a New Surface Treatment".
See the presentation here.